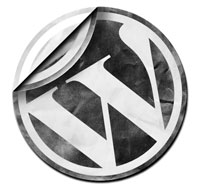 Not much has been written on this site about WordPress, but over the last few years we've pretty much become a WordPress only shop – with 90-95% of our projects built on the platform. Here's why.
Every site we've created in the last few years has been developed within a Content Management System (CMS). This gives our clients easy access to update their site through a web browser, without the need for a complete knowledge of HTML.
We've tried a few over the years (Drupal, Joomla, Expression Engine) and found that, while they're all a huge improvement over static html files, they each were lacking in some fundamental way or another. Even the early versions of WordPress were not suitable for full fledged site content management.

Far and away the most glaring flaw in each of the above applications is in the ease of use for the end user. They each required too steep of a learning curve to use effectively. Far too many things that should have been easy weren't.
Enter the WordPress
WordPress started out as blogging software and we've used it for quite a while to build blog-centric websites. A few years ago, however, enough features were added to allow for building full blown sites on it. Once we gave it a try and saw how easy it was for end users, we didn't look back.
Here's a quick list of WordPress features that are the reason we love it so much:
User Friendly
I taught Kari how to manage her own site in about 20 minutes. Enough said.
Open Source Software
While we don't mind paying for quality software, kick-arse software that is free to use and manipulate is even better.
Community Support
WordPress is fast becoming one of the most popular CMS software platforms around. It's constantly being developed and improved (at least 3 major updates per year) by a passionate community. If Spigot gets hit by a bus, someone will be there to pick up our sites. No obscure software here!
Standards and SEO
A site built on WP is as solid a foundation as a website can be. It follows the rules and makes the search engines happy.
Plugins
If you need special functionality, there's probably already a plugin for that. And if not, it's easy to build one.
One click updates
Right from the administration area – click – click – done.
Easy Theming
Of course everything we do around here is custom, but if you're short on design skilz, there are thousands of free themes out there. Too bad most of them are crape. Better just hire us to build it from scratch. 🙂
Lastly
There are a few other things about WordPress that, as a developer, I really like. Most of them won't make any headlines though. Things like its clean and easy file structure. Or it's well documented Codex. The Famous Five-Minute Install. And communities like Theme Hybrid.
If you've got any questions about WordPress, don't hesitate to leave a question here, or contact us directly. Love talking about the WordPress.