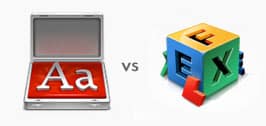 Font management has thankfully been something I haven't had to think much about in the last few years, ever since Linotype came out with Font Explorer X for both the Mac and PC. FEX was free, and it worked – while others on the scene at the time such as Extensis Suitcase were wracked with problems, and you had to pay for them.
Can a font management app cause a scene?
So when I began hearing the buzz surrounding FontCase I was pretty skeptical of upsetting my font management workflow. I was perfectly happy with what I had. But the buzz continued, I'd read a review or two about it, and decided to take the 30 day free trial plunge. 
Note: I won't be going into real depth here on a review of the app. If you're interested in that, check out the Smoking Apples FontCase review.
Overall, my experience with FontCase was fairly smooth. The import process went ok, the interface was nice to look at, and organizing and finding fonts was straight forward and easy. So why didn't I rush out and plunk down for this app once my trial was done?
Accountability and transparency
The thing I liked best about FEX was that it didn't really bother me. I could launch InDesign or Illustrator and it would pretty much automatically activate the fonts I needed. And if I needed a new font activated, I could do so and not have to restart the app to be able to use it (with Photoshop being a notable exception to this).
This was not the case with FontCase. Auto-activation of fonts became manual–and even though I had FEX deactivated it still wanted to come in and rescue me when a font couldn't be activated. And that was it. My mind was made up. If I had to think about my font management, then the app isn't doing its job. 
Font Explorer X goes Pro
In amongst the buzz about FontCase, I was hearing rumors that FEX would cease to be free and a 'Pro' version was coming (this isn't the case, as Linotype will still offer the original version, but drop support for it). I headed on over to the FEX website to see what was a-brew.
Sure enough, there's a new version, and there's handy 30 day trial, which I'm currently in the midst of. So far I can't really tell a difference between the Pro and Original versions, but I suspect that's because I'm back to forgetting all about font management. One noticeable new feature is the addition of a Photoshop plugin. This could be the start of something heavenly.
And the winner is
I can't say I gave FontCase the testing it probably deserves. For all I know I may have been doing something wrong. It is a very aesthetically pleasing app, and may serve your needs perfectly.
But FEX has been treating me well for so long, for free, that I'd feel something akin to an adulterer if I jumped ship now. FEX Pro seems to be a minor upgrade to the Original, but I'll be sticking with it. Until the end of Feb it's 50% off the final $79 price tag, so go grab it now.