Just a quick update on the Park City Chamber email list article from back in May.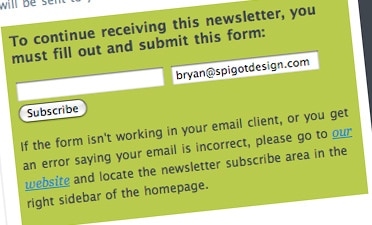 The plan was to take the 1200 or so contacts from the Chamber list and send one last unsolicited message requiring each recipient to explicitly subscribe if they wished to continue receiving the newsletter.
Results: 65 out of 1200 recipients continued their subscriptions.
Overall I can't say I'm surprised. There wasn't a number I was shooting for, but I would have guessed something a bit higher. Perhaps even quite a bit higher. I'm attributing the results to one of the following conclusions:
Most people don't like receiving email newsletters
Most people don't like receiving my email newsletters
That's not self-deprecation talking… Of all the emails I receive from Chamber members, there are only a handful that I actually read, or that actually pertain to my sphere of relevance. It must hold true then that most members don't find my newsletter relevant either.
Big thanks to those who did subscribe
To the 65 of you who did subscribe, I thank you. I'm looking forward to sending out my first campaign through Campaign Monitor in the next month or so. I hope you continue to find it relevant and informative. Feel free to forward it on.
If you meant to subscribe but it just didn't happen, no worries. Scroll down to the footer and you'll find a hand sign up form. You'll be on the list instantly. And if you decide later that it isn't for you, unsubscribing is just as easy.