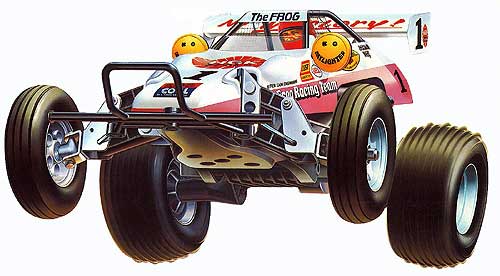 A paper route was my very first job as a kid, starting in 6th grade. The thing I got up so early in the morning for? A 1/10 scale RC car called The Frog, by Tamiya. A couple of friends and I saved up for months to buy these cars (Eric had The Hornet, and Steve had The Ultima) and we tinkered and raced and loved them. Putting them together was part of the process – The Frog came as a big box of parts and a book on how to assemble.
I have no idea what became of my old beloved Frog. I suppose I grew out of it and left it behind when I went off to college. Nostalgia.
How excited was I when I heard that Tamiya had reissued The Frog (and a few other models like The Hornet)? Well I was even more excited when Eric sent me an entire Frog kit – with the radio, battery, and charger too!
My son and I are going to have a blast putting it together. Maybe I should make him deliver papers for a few months first…