I'm very glad to have chosen design as a career path. But if I had to do it all over, I'd be an astronaut. I'd be Chris Hadfield. I grew up watching Shuttle launches in class, and remember vividly the day the Challenger exploded.
I keep this on my desk: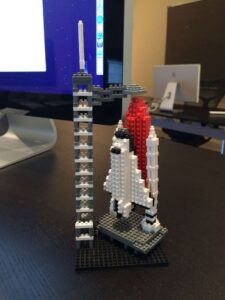 When the last Shuttle touched down I felt an empty spot in my stomach, and shed a tear. When I heard about Paul Hildebrandt's Fight for Space I jumped on board to support it. The documentary explores the benefits of continuing our exploration of space – my hope is that it inspires the country to put more effort and resources into NASA and the space program.
The film is now in final production and they need one more push for final funding. If you're interested in seeing the space program grow, this may be one small way to help: Support Fight for Space on Kickstarter.