If there is anything that sets Spigot apart from other web design firms, our content strategy work is it. Research, analysis, strategy and development of site content… if you are building a website and don't start here, you don't have much of a plan.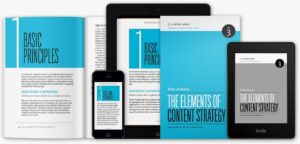 Our Content Strategy Process
Content Strategy is the first step towards an authentic, comprehensive website that performs.
Research
We need to understand your brand, business, competition, customers and your goals before we can solve your problems. Research is the cornerstone to creating a site that will perform to the highest level of expectation.
Strategy
If research is the gathering of facts, strategy is the plan of attack. We determine your keyword focus and plan for site optimization, the site assets you need, design direction and clearly define overall goals and how to achieve them.
Wireframing
Wireframes are the bible from which we swear our oath. A guiding light for design, development and content. They clearly communicate the well thought-out site navigation hierarchy and more to provide a blueprint for success.